Work continues for ALG-AD – albeit from home not the lab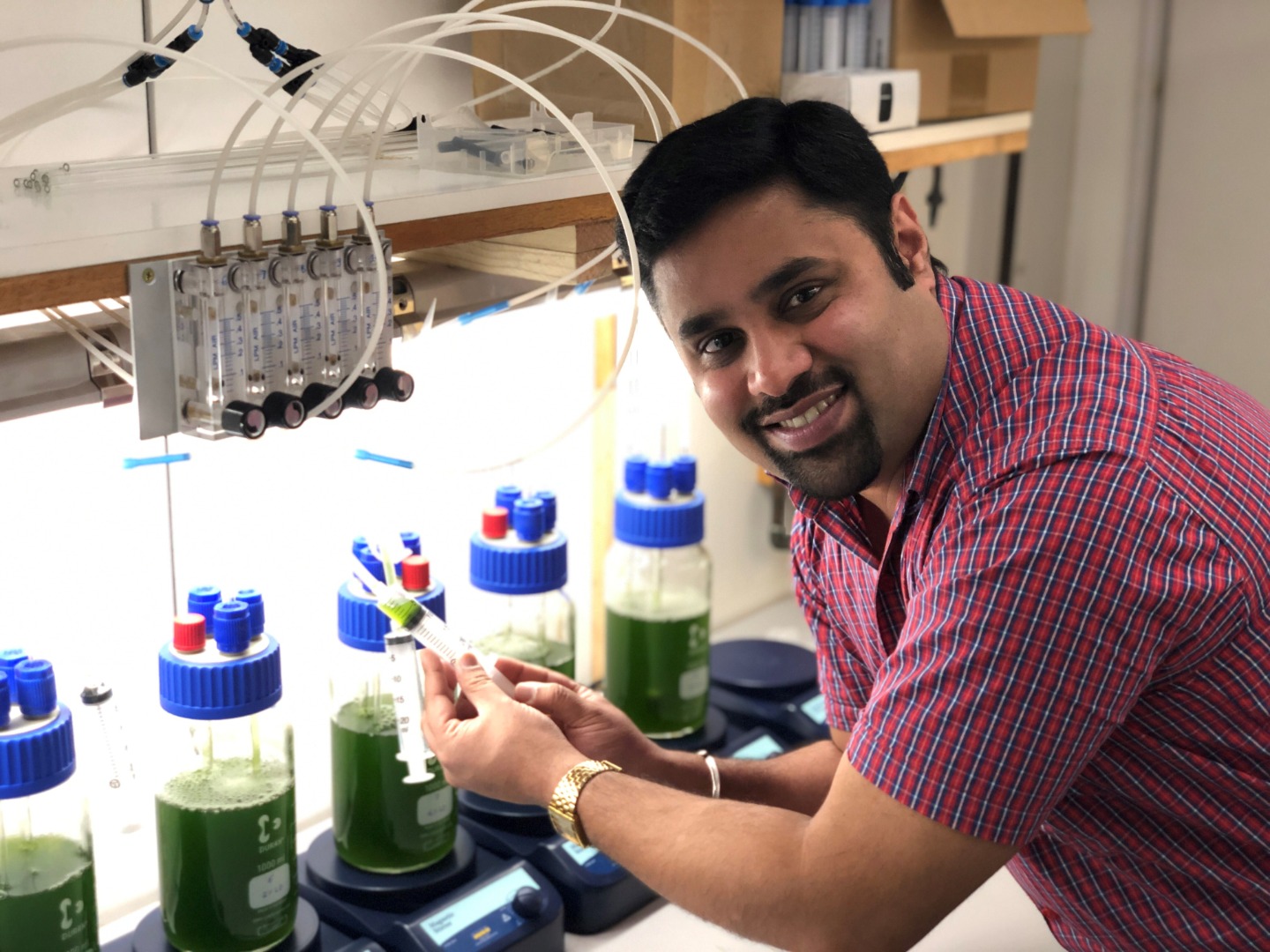 Dr Rahul Vijay Kapoore undertaking one of his last experiments in the lab before lockdown. 
Along with the majority of citizens across North West Europe, scientists and project support staff working on ALG-AD are now carrying out their duties from the safety of their homes.
The restrictions on working practices has meant the project's pilot reactors in Devon and Brittany are taking a temporary break from operations. A final harvesting of the biomass grown in Langage AD took place before the end of March. This material will now go in to storage to be characterised later once laboratories come back online. 
Meanwhile, Innolab in Ghent is operating a skeleton crew which means the reactors continue to operate. 
However, the team have plenty to keep them going in the interim.
"In many ways this hiatus is a good thing, as it's allowing us the time to go back to all the data we've collated over the past year and to conduct further thorough analysis," said Dr Rahul Kapoore. "I've just completed a lab scale experiment looking at optimising the concentration of digestate we are using in our growth trials, and these results initially look encouraging."
As well as going back over the data already collected from a variety of experiments, the team are also refining the life cycle analysis and techno-economic assessments of operations in Langage. To date, this pilot has been able to provide a full year's worth of operational data.
Birmingham City University, which is responsible for organising this information into a useful decision support toolset (DST), is now leading on regular video conference calls.
"There is still lots of work ahead for us on this project, and this time gives us the opportunity to focus on the toolset, which will be invaluable as a resource for our stakeholders and potential users of the technology," said BCU's Dr Lynsey Melville, leader of the DST work package. "Partners have been enthusiastically engaging with us over the past two weeks exchanging detailed information which we can directly input into the toolset.
"The aim is that once this particular health crisis over, we will be in a position to demonstrate a functional and useful prototype of the toolset."