Business Innovation Programme: Course Overview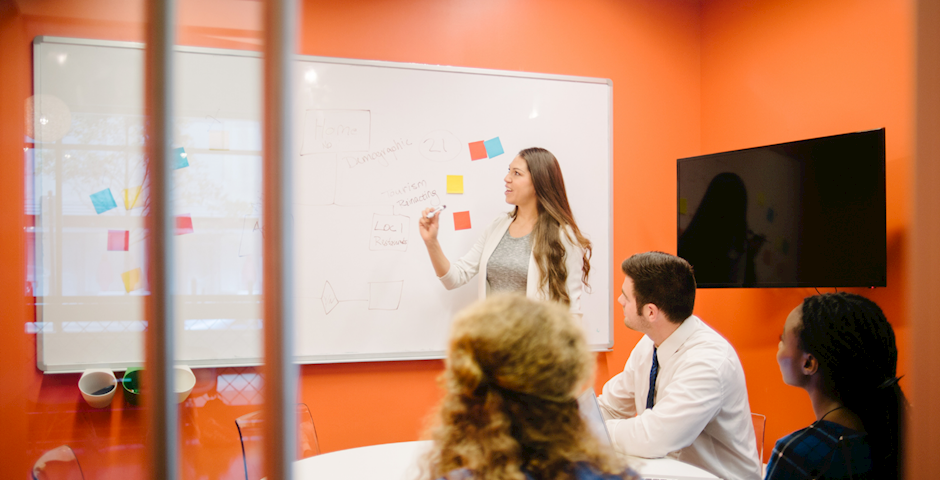 By SETsquared Surrey
The most recent Business Innovation Programme, held online on 6th, 7th and 10th September 2021, comprised three half-day workshops designed to help early-stage SMEs with their business model. The sessions combined theory and practice and focused on three main themes: Build, Model and Test.
The purpose of the Programme is to encourage SME founders to think through the wider aspects of their planned business beyond just product or solution – which is often where entrepreneurs start. Over the course of three days the participants reconceptualised their business in terms of the Business Model Canvas (BMC), a tool developed by the innovation expert Alex Osterwalder.
Day One was devoted to building a business model, followed by modeling on Day Two and testing on Day Three. The course instructors, Christopher Pett, Ian James, and Keith Dixon – all experienced advisors at SETsquared Surrey – demonstrated how to assess and test one's business model. Given that most businesses fail because they build something that not enough people want or are willing to pay for, they emphasised the importance of engaging with potential customers at an early stage as part of the testing phase. Delegates were encouraged to continue updating and refining their BMC, which thereby becomes a living tool that the entrepreneur uses to plan and implement changes in their company as it grows and evolves.
The instructors' presentations highlighted that a crucial skill for entrepreneurs is to be able to communicate their business model in order to persuade, influence, and secure valuable feedback from stakeholders and mentors. On the final day the trainees were asked to apply the BMC tool to present their business model in a 5-minute pitch followed by a Q&A session.  The presentations were followed by "speed mentoring" – one-to-one sessions, during which each participant received individual feedback from the course instructors and guest mentors on their business model along with plans for further development.
Programme Outline
Day One – Build
Welcome
What is your business idea?
What is SETsquared?
Introducing Build – Model – Test
Build
The Marshmallow Challenge – and its learnings
Prototyping
What we can learn from architects
Business Model Canvas
Why do most start-ups fail, and why some succeed?
Essentials of the Business Model Canvas (BMC)
Business Model Canvas: best practices
Customer
The difference between a customer and a user
How to create a customer profile
Essentials of the Value Proposition Canvas (VPC)
Customer needs, pains and gains
Value Proposition
What is a value proposition?
The difference between features and benefits
How the 'value proposition' side of the canvas works
--------------------------------------------------
Day Two – Model
Opportunity
How to interact and reach your customers
Understanding different types of channels and customer relationships
Assessing the size of the opportunity and where the focus is
Revenue Streams
Different types of revenue streams
Setting price
Understanding value
Feasibility
Understanding what a value chain is
What makes up costs?
How to re-imagine your value chains and cost structures
--------------------------------------------------
Day Three – Test
Business Model Testing
What you need to test
What types of testing you can use
What to do with you discovery
Business Model Canvas Presentations
Companies present their Business Model Canvas to a panel of experts
Short pitch of your value proposition, business model and next steps
Q&A
Speed Mentoring
Companies have 1:1 session with each individual mentor and panellist
Wrap-up
Review of attendee objectives
Final Thoughts
What did the participants say?
"I really enjoyed the three-day EP Programme that I attended as part of Blockstart.
What worked well for my style of learning was the mix of insightful and experienced speakers combined with time in smaller groups to put our learning into practice, exchange ideas and get real time input from other entrepreneurs. The varied pace meant that time went by fast and I walked away with valuable new ideas and action plans.  The mini pitch on the final day was particularly helpful, as it gave us a chance to practice our presentation skills and get feedback from a disparate group of industry leaders.
Thank you to the whole team for delivering three days of engaging and actionable training!"
-Paola Masperi, Founder of Madeby_
"We have just completed the Digital EP and can highly recommend it. The course is well structured, jam-packed with value and fast-paced to keep you focused. We have finished the course with invaluable insight, strategic direction and a clear course of action to take our business to the next level."
- Leane Tilley, Founder of Kineta Tea
Join the next event
The next Business Innovation Programme will take place online on 22nd, 23rd and 25th November 2021  9:50 – 14:00 CET / 8:50- 13:00 GMT.
If you wish to book your place, please contact your regional Blockstart partner.
If you have not yet joined Blockstart, apply today!
Join the programme
Our Courses
Apply