17 SMEs JOIN THE 2023 MEET&MATCH.DX COHORT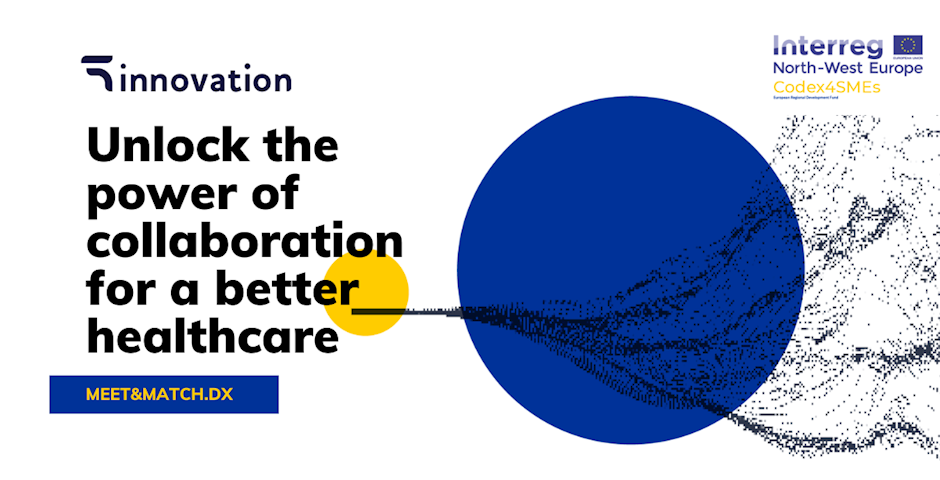 In February 2023 we launched the second edition of the Meet&Match.Dx as part of Interreg NWE Codex4SMEs, a challenge-based acceleration programme connecting SMEs producing ground-breaking diagnostic solutions to leading European MedTech corporations.
Today, we are glad to announce that 17 companies have been chosen to take part in the program and explore partnership opportunities with Siemens Healthineers, Qiagen, Beurer, and Aidian.
The selected startups will take part in 4 modules over the coming months, including pitch training, access to experts, meetings to explore potential collaborations, and a Demo day to present their solution to outside Pharma & MedTech organizations.
Challenge: Simplified nucleic acid extraction and/or sample preparation in collaboration with Aidian
Solios diagnostics – A German company that is developing a compact & fully integrated disposable device for lateral flow-based diagnostics.
Swiss Integrative Center for Human Health SA​ – Based in Fribourg, they are developing non-invasive diagnostic applications to be used in prevention, treatment and follow-up.
Flux Polymers -  Flux Polymers produces a hydrophilic polymer that can be sprayed or dip-coated onto surfaces and prevents the attachment of bacteria, biofilm and other dirt.
Challenge: Integration of a cuffless blood pressure monitoring technology into the Beurer product portfolio in collaboration with Beurer
Redwave – A German SME developing innovative solutions for the medically accurate determination of health parameters of blood pressure, arterial function and cardiac output.
Xim LTD (Lifelight ®) – Lifelight ® allows a smartphone to measure blood pressure, pulse, and breathing rate simply by a patient looking into the device's built-in camera for 40 seconds.
Happitech -  A Dutch company offering the world's first CE Certified heart rate software development kit that allows medical-grade vital signs monitoring through a smartphone.
Biostrap – Biostrap is a digital health company offering a high-resolution biosensor-based digital biomarker platform.
Challenge: Digital technologies to improve antibiotic prescription practices in collaboration with Qiagen
Treat systems - An innovative Danish company provider of a comprehensive software tool for implementing an Antimicrobial Stewardship Program.
Genevention - A German bioinformatics start-up that provides platforms and solutions for biomedical big data integration, analysis and visualization.
Medical Values - Medicalvalues offers an AI-based software solution for integrated diagnostics specialized in aggregating and interpreting data across disciplines.
Challenge: Improving healthcare access in low and middle-income countries in collaboration with Siemens Healthineers
AISAP – The AISAP platform automatically analyses cardiac ultrasound producing diagnostic reports addressing major cardiac findings.
CoNurse - CoNurse is a versatile mobile application designed to enhance healthcare delivery in low and middle-income countries by improving patient safety and care.
OaCP - An Irish company providing a breakthrough solution to make crucial DNA tests for cancer and infections faster and more accessible.
PONS - PONS is an AI-driven mobile ultrasound that can be used by consumers and caregivers to provide medical imaging in and out of hospital settings.
Predica Diagnostics - A Dutch company developing a novel technology for early detection and prevention of cervical cancer.
Saklecha Healthcare – An innovative diagnostic center "on wheels" specialized in providing diagnostics tests at home in low and middle-income countries.
Grapheal - Grapheal realizes embedded biosensors, digital by design and minimalistic, that can detect and dose molecular biomarkers & pathogens anywhere.
Congratulations to the selected companies!
---
Looking for more services for diagnostics development?
Full Regulatory Assessment - Translational Assessment - Biomarker Validation Consultancy Services - Interactive online seminars on biomarkers
Browse Codex4SMEs Service Catalogue
---