Metabrain and IBBL successfully cooperated in developing new CDx supported by Codex4SMEs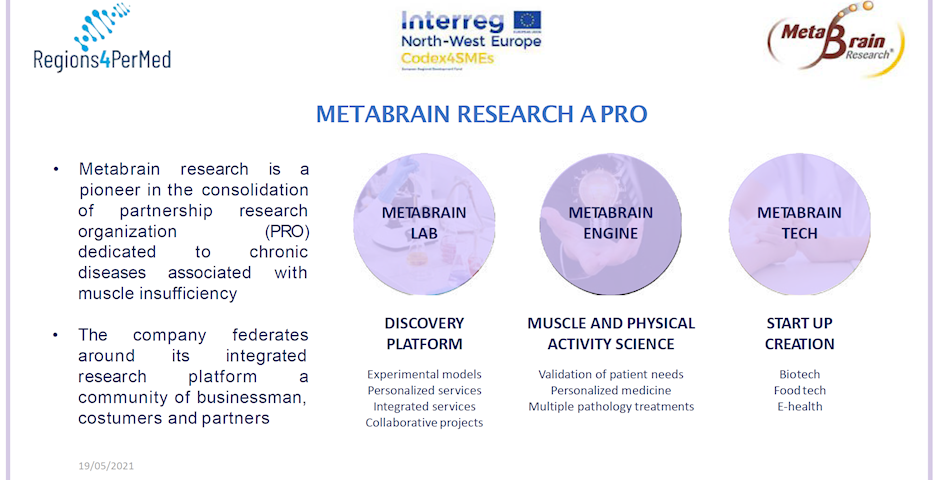 Sophie Raynal (Metabrain Research SA, France) presented the entrepreneurial perspective on translation in practice – developing and bringing a PM product to the market. She outlined the inception of Metabrain Research in 2009 by two French scientists (Valerie Autier and Micheline Kergoat). The Paris-based R&D company has 20 employees. It develops innovative therapeutics to restore muscle function. The company follows a partnership-based approach for R&D and terms itself a partnership research organization (PRO), having built a supportive community of stakeholders and commercial partners and customers around its integrated research approach and has three defined areas of action: Metabrain lab is the discovery platform of the company; Metabrain engine focuses on muscle and physical activity science, and Metabrain tech on start-up creation in the field of biotech, foodtech and e-health (see figure). Metabrain described its participation in Codex4MEs (described in more detail later in this document) for a CDx development R&D project related to the kynurenine metabolic pathway for muscle pathology. Access to human cohorts was needed for the development of a standardized biomarker to enable clinical trials.

Codex4SMEs is an Interreg NWE project supporting PM development by offering translation support to SMEs. Through Codex4SMEs a collaboration with the Integrated Biobank of Luxemburg (IBBL) was set up that helped Metabrain Research to develop high level quality procedures, support the development of validated SOPs and also the validation of its biomarker in human samples. IBBL is a biomedical research institute of the Luxembourg Institute of Health (LIH) that provides biospecimen-related services and a biobanking infrastructure for applied medical research. The collaboration proved to be of high quality, allowing procedure optimisation and a transfer from lab to the clinic in an international setting, also including procurement support in terms of material cost information. Metabrain Research could save time, cost while validating its testing approach for CDx development (the savings amounted to at least 6 months FTE and 40 T€ in cost of goods). The company intends to develop further therapeutics in conjunction with CDx and can build on the knowledge gained in Codex4SMEs for these projects for which it intends to set up new collaborative R&D partnerships following its PRO approach.
SMEs need sufficient funding to cover R&D cost for developing PM. CDx development and clinical trials are costly. In PM there is a strong focus on oncology, leaving other areas potentially underserved. Personal data protection is critical and not fully resolved, making investors shy to invest in SMEs that are follow a PM approach, particularly if it is not in the field of oncology. They are still waiting to see the evolution of the market, the development of an adequate legal framework and the position of payers in respect to reimbursement of PM technologies and therapies.
Source: This article is an excerpt taken from the report of the Regions4PerMed project: KA3 Report - Personalising Health Industry
---
Discover more Codex4SMEs services for the development of innovative diagnostics.
Full Regulatory Assessment - Translational Assessment - Modular Biomarker Validation Services - Interactive online seminars on biomarkers - Cooperation with Pharma & MedTech companies
Browse Codex4SMEs Services
---