Irish government policy to support community involvement in Renewable Energy projects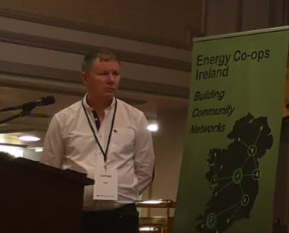 The growing Energy Co-operative movement in the Republic of Ireland was highlighted at the recent 'National Renewable Energy Co-operatives Ireland Conference', in October in Tullamore, Co Offaly, with the agreement of a new government policy on community involvement in renewable energy projects.
Senior representatives from the Republic's Department of Communications, Climate Action & Environment (DCCAE) discussed the 'Renewable Energy Support Scheme' (RESS), which was recently published by community renewable energy developers. Agreement was reached for the development of a policy on community involvement in future renewable energy projects, with a specific category to be set up for Community Renewable Energy projects.
The finer details of the policy will be developed in the coming months with the Department continuing consultation with communities and developers.