The "NWE making an impact!" event has taken place at La Chaufferie, a former textile factory, hosting around 400 participants.
Through a wide variety of sessions and formats, the programme has offered unique opportunities for participants to network, exchange and explore new potential collaborations.
NWE Chance was present at the event, represented by its coordinator Astrid van der Velde, from Isala Health Centre. The project staffed a boot to showcase its progress and allow participants to discuss how to innovate for home hospitalisation.
The project has also received students' vote for one of the most impressive Interreg NWE project.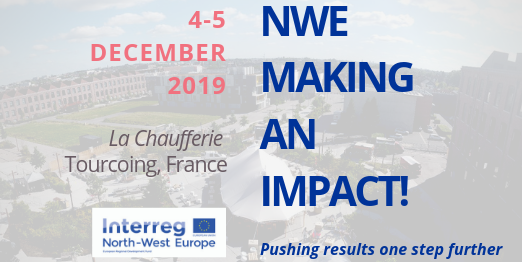 The "NWE making an impact!" event has offered to its participants:
An opening

 

plenary session

 

to discuss the programme's result orientation and the need to maximise the impact of projects throughout the NWE territory, and beyond in Europe.



A 

project forum and exhibition

 

area as a dynamic and interactive networking platform, where NWE beneficiaries had the opportunity to showcase their work and the changes they brought in North-West Europe.


Site visits

 

in the Lille agglomeration that have allowed participants to discover what some NWE projects have achieved on various topics ranging from social innovation to circular economy.


Thematic workshops

 

on

 

some of the main topics addressed by the programme

 

(such as health, energy efficiency, green constriction, marine energy…), have given the floor to project partners to discuss their needs, find synergies and elaborate ideas for further cooperation.


New support opportunities

 

to further rollout project results and ensure their uptake will be presented.
- Have a look at the detailed agenda.
- Have a look at the highlights of NWE Making and impact!
A special thanks to Astrid van der Velde for representing NWE Chance at La Chaufferie and providing us with event pictures.