Brandenburg Interreg partner presents feasibility study on landfill redevelopment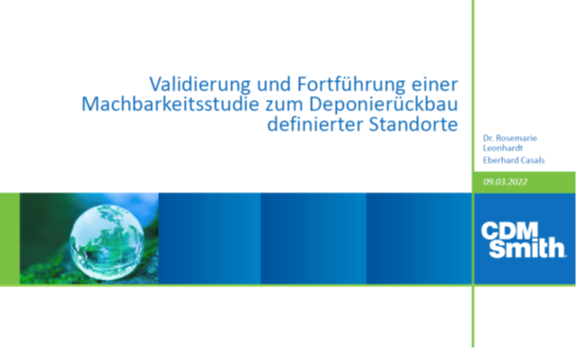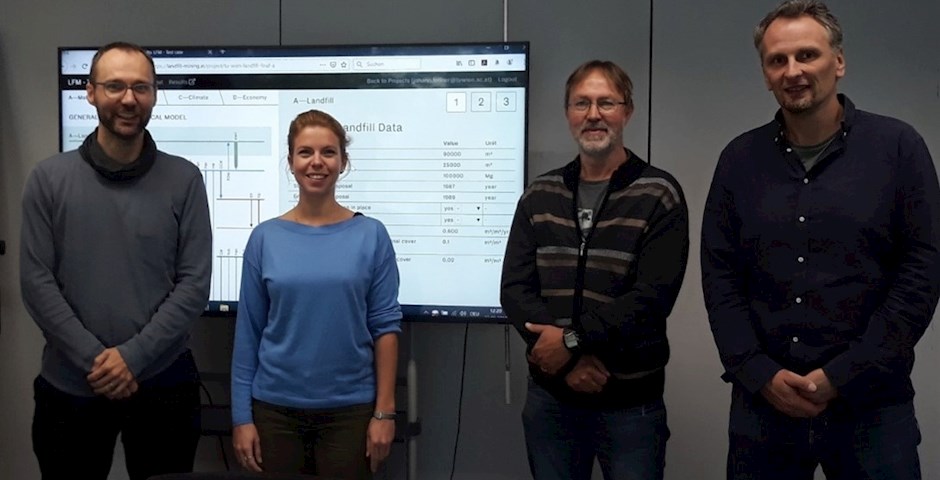 Presentation webinar 9.3.2022 CDM Smith at LfU
OnToL-meeting at OVAM 29.9.2019: left to right.: prof. David Laner (TU Wien, Universiteit Kassel), Dr. Andrea Winterstetter (TU Wien, KraiburgTPE), Eddy Wille (OVAM), prof. Johann Fellner (TU Wien).
English version
Brandenburg Interreg partner presents feasibility study on landfill redevelopment.
On March 9 2022, our NWE REGENERATIS member Eddy Wille (OVAM) participated in a webinar on landfill redevelopment organized by the Interreg Europe COCOON partner Landesamt für Umwelt (LfU) from Potsdam-Brandenburg (Germany). Colleague Dr. Ulrich Stock (LfU) introduced the CDM Smith feasibility study on the redevelopment of 9 landfills. This assignment is in line with the COCOON project, which, among other objectives, did research on a more sustainable management and rehabilitation of former landfills.
The CDM Smith feasibility study is an extension of the research carried out by the team of Prof. David Laner (University of Kassel, UvK). On 4 selected landfill types, a query of the LfU landfill database ALKAT was carried out within a radius of 30 km around Berlin. This selection resulted in 199 landfill sites which were evaluated by the UvK using the web-based evaluation tool OnToL (Online Tool for the Economic and Ecologic Evaluation of Landfill Mining Projects). OnToL was developed by TU Wien (team Prof. Johann Fellner) on behalf of OVAM and is part of the Orion decision support model that was developed for Interreg NWE RAWFILL project.
This OnToL evaluation resulted in 7 landfills with a high probability of cost-neutral extraction and redevelopment. The CDM Smith study included a more detailed feasibility study with the validation of the OnToL input values ​​(and redefinition if necessary), refinement of the site-specific data and associated research concept. This concept is necessary because knowledge of the waste composition rarely has the desired level of detail.
During this webinar CDM Smith concluded that the driver for the redevelopment of these mixed landfills is not the content of materials, but above all the land value. In the Berlin region, the land prices of residential areas are usually cost-effective, as long as the content/surface ratio of the landfill is lower than 4 or when the landfill is less than 4 m thick. Just like in Flanders, the spatial destination and intended land use may be a point of discussion. Residential use sets higher standards on remedial actions and risk reduction but also provides higher land value. Softer destinations with higher social added value result in a different cost recovery. OnToL supports such trade-offs.
The uncertainty on the waste composition complicates the cost estimation and a better characterization of the landfill is necessary. Therefore, the NWE REGENERATIS project supports the use of geophysical prospection, which lowers such uncertainties and improves the targeted sampling. CDM Smith pointed out the need to invest in this preliminary study in order to avoid exceeding budget during implementation. This view is in line with the revised UNFC assessment in which, in addition to the environmental-socio-economic viability (E) and technical feasibility (F), the degree of uncertainty (G) is also determined. In addition, the positive effect of removal on the (cost of) aftercare and monitoring should be considered as well.
Uncertainty also affects municipal services. Landfill redevelopment is not a standard operation today and further support is therefore needed. This goes beyond mere financial interventions and only few examples are documented. LfU will continue to exchange knowledge and experience on this point. OVAM fully supports this. In the past OVAM already learned from the ALKAT database experiences, which were used as inspiration for the Cedalion landfill database, which is now the basis for prospecting redevelopment options at landfills. With NEW REGENERATIS, we are doing this with a focus on Post Metallurgical Sites and Deposits.
German version
Brandenburgischer Interreg-Partner präsentiert Machbarkeitsstudie zur Deponiesanierung.
Am 9. März 2022 nahm Regeneratis Partner Eddy Wille (OVAM) an dem von Interreg Europe COCOON-Partner Landesamt für Umwelt (LfU) aus Potsdam-Brandenburg organisierten Webinar teil. Dr. Ulrich Stock (LfU) initiierte eine Machbarkeitsstudie zur Sanierung von 9 Deponien und beauftragte hierfür das Ingenieurbüro CDM Smith. Diese Studie ist Teil des Action Plans des Landes Brandenburgs und wurde im Rahmen des COCOON-Projektes durchgeführt. Sie steht im Einklang mit den inhaltlichen Zielen des Cocoon-Projektes, das sich unter anderem mit einer nachhaltigeren Bewirtschaftung und Aktivierung ehemaliger Deponien befasste.
Die Machbarkeitsstudie von CDM Smith ist eine Fortführung einer vorausgegangenen Studie der Universität Kassel (UvK). Hier wurden für  4 Deponietypen eine Abfrage im Altlastenkatatster ALKAT im Umkreis von 30 km um Berlin durchgeführt. Aus dieser Auswahl resultierten 199 Deponien, die von der UvK mit dem webbasierten Bewertungstool OnToL (Online Tool for the Economic and Ecologic Evaluation of Landfill Mining Projects) bewertet wurden. OnToL wurde von der TU Wien (Team Prof. Fellner) im Auftrag der OVAM entwickelt und ist Teil des für Interreg RAWFill erstellten Orion Entscheidungsunterstützungsmodells.
Die OnToL-Auswertung ergab 7 Deponien, die mit hoher Wahrscheinlichkeit kostenneutral zurückgebaut werden können. Die Studie von CDM-Smith- umfasste die Fortführung der o.g. Machbarkeitsstudie mit der Validierung der OnToL-Eingabewerte (und ggf. Neudefinition), der Präzisierung der standortspezifischen Daten und dem dazugehörigen Untersuchungskonzept. Dieses Konzept ist notwendig, da die Abfallzusammensetzung selten der allgemein angenommen Abfallzusammensetzung entspricht.
In der Diskussion wurde deutlich, dass die Motivation für die Nutzung dieser Altdeponien nicht der Materialgehalt, sondern vor allem der Bodenwert ist. Im Berliner Raum sind die Grundstückspreise von Wohngebieten in der Regel hoch; sofern das Volumen-/Flächenverhältnis der Deponie kleiner als 4 bzw. kleiner als 4 m Mächtigkeit ist, kann ein Rückbau rentabel sein. Somit ist genau wie in Flandern die räumliche Lage ein Entscheidungskriterium. Die technische Umsetzung ist teilweise schwieriger, aber auch ertragsbestimmend. Andere Nutzungen mit sozialem Mehrwert müssen hinsichtlich der Kostendeckung anders betrachtet werden. OnToL kann die Entscheidungsfindung hierbei unterstützen.
Die Unsicherheit über die Abfallzusammensetzung erschwert die Kostenkalkulation und eine bessere Charakterisierung des Deponiekörpers ist erforderlich. Dazu kann eine geophysikalische Voruntersuchung eine gezielte Probenahme ermöglichen, aber nicht ersetzen (siehe auch Interreg Regeneratis). CDM Smith wies auf die Notwendigkeit hin, in diese Vorstudie zu investieren, um unerwartetet Mehrkosten während des Rückbaus zu vermeiden. Diese Ansicht steht im Einklang mit der überarbeiteten UNFC-Bewertung, in der neben der ökologisch-sozioökonomischen Machbarkeit (E) und der technischen Machbarkeit (F) auch der Grad der Unsicherheit (G) bestimmt wird. Zudem sollte der positive Effekt des Rückbaus auf die (Kosten der) Nachsorge und Überwachung nicht aus den Augen verloren werden.
Der Deponierückbau ist keine Standardmaßnahme der Sanierung und bedarf weiterer Unterstützung durch die behördlichen Institutionen, insbesondere was die Unsicherheit der entstehenden Kosten betrifft. Die Unterstützung geht jedoch über bloße finanzielle Zuwendungen hinaus. Das LfU wird den Wissens- und Erfahrungsaustausch zu diesem Punkt fortsetzen. OVAM unterstützt dies voll und ganz und konnte in der Vergangenheit bereits auf die Erfahrungen von ALKAT zurückgreifen, die in der Deponiedatenbank von Cedalion mündeten, die nun die Grundlage für Voruntersuchungen von Sanierungsoptionen von Deponien ist. Interreg Regeneratis konzentriert sich auf postmetallurgische Deponien und Flächen.
Dutch version
Brandenburgse Interreg-partner stelt haalbaarheidsstudie rond stortplaatsherontwikkeling voor.
https://ovam.vlaanderen.be/nl/w/brandenburgse-interreg-partner-stelt-haalbaarheidsstudie-rond-stortplaatsontwikkeling-voor