The Walloon tour of the Repair Café Mobile 2022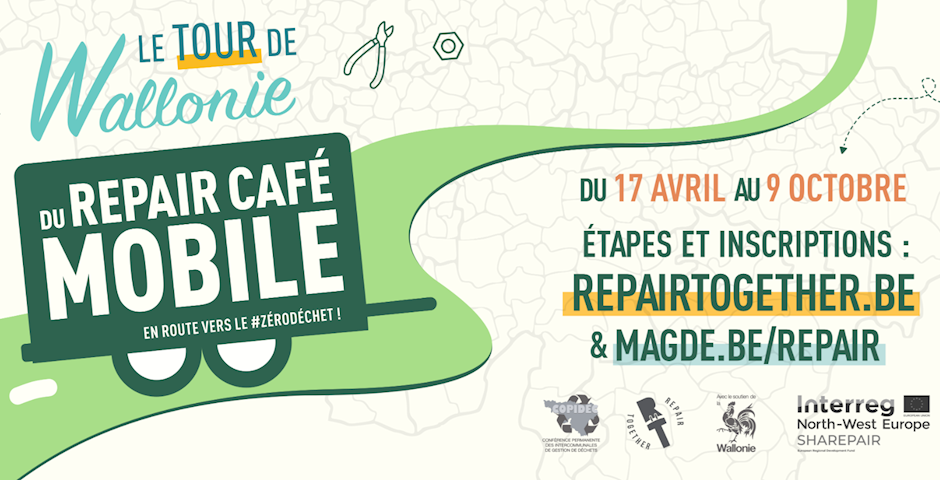 More than 20 repair locations in Wallonia
This year, the Repair Café Mobile is back on the road to cross the whole of Wallonia. Repair Together will take this travelling collaborative workshop to more than twenty locations so that citizens can co-repair their appliances with the help of volunteer repairers. 
This tour is organized in collaboration with the COPIDEC, the federation of the 7 public operators in the waste management sector in Wallonia and will take place from April to October 2022. All dates and locations can be found on this page. 
During the tour, information will be given about the SHAREPAIR project and demonstrations of repair with 3D printing will take place. All repairs will be registered on the platform www.restarters.net (The Restart Project) to enrich the database and to calculate the environmental impact of the tour. 
To see what the events with the Repair Café Mobile look like, here is a video of the 2021 tour. 
In order to share this project on a larger scale, the Repair Café Mobile has been designed on an open-source model. Le Repair Café Mobile by Repair Together / Simon Frémineur is licensed under CC BY-NC-SA 4.0. Repair Together has developed an open-source kit (currently in French) to allow anyone to create their own Repair Café Mobile. 
If you want to know more about this project, please send an email to: repaircafemobile@repairtogether.be.