Children in Apeldoorn unite against e-waste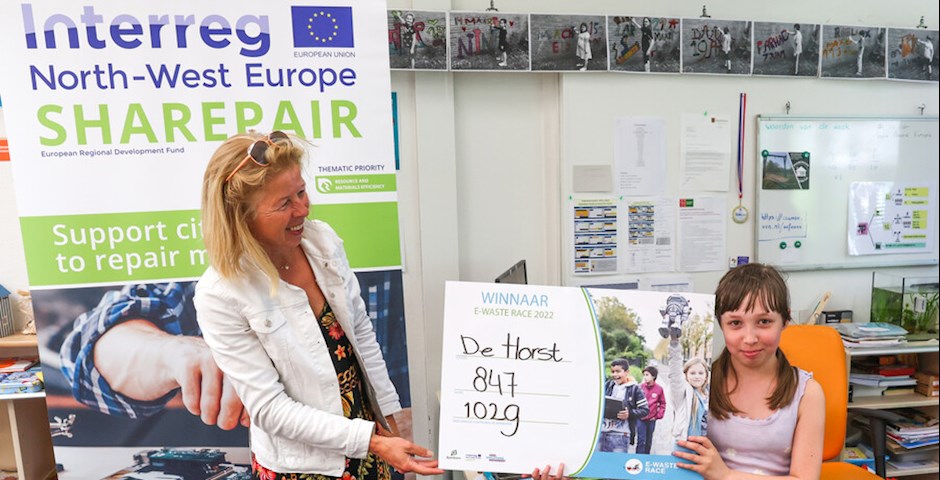 Nearly 4000 devices collected during E-Waste Race
With the E-Waste Race, during 4 weeks, 10 primary schools in Apeldoorn collected as many electrical devices as possible.
The winning school is 'basisschool De Horst', who collected 1.029 devices. In total, 3.908 devices were collected for recycling and another 18 devices were repaired at the local Repair Café Foenix. Carla Fransen, Project Leader ShaRepair at the municipality of Apeldoorn, handed over the first prize to the winning school class.
Treating electronics more consciously
Thanks to this collecting initiative, the collected devices will not be burned, but re-used or recycled.
In the Netherlands, currently nearly half of the electronical waste (e-waste) is not being recycled, often because it ends up in residual waste or people leave it in their homes. The E-Waste Race encourages children, their families, and neighbors to treat electronics more consciously. The race started with an informative course on resources, consuming and circular economy.
Apeldoorn's City Council member for Veluwe (national reserve), Climate & Energie Danny Huizer said: "It is fantastic to see the enthusiasm that the children have for collecting e-waste. Fortunately, we're getting more convinced of the importance of repair and recycling. As a municipality, sustainability and circularity are important topics. I am therefore very proud of the children and this beautiful result!"
From juicer to DVD player
After the course that was held by the E-Waste Race Project Manager, the children collected e-waste during 4 weeks. They received bonus points for repairs. In order to include their neighborhoods, they were challenged to be creative: make a video, flyers, songs, etc.
People from the neighborhoods could sign up their broken devices online – from juicer to DVD player and from hair dryer to keyboard – and the school children came to collect them at home. All devices that were collected during the race, will be re-used or recycled.
This way, the race contributes to the sustainable circle of costly resources that are in older electronics.
Caption images:
At the top
ShaRepair Project Leader Carla Fransen handed over the first prize to the winning school, basisschool De Horst.
At the bottom
The winning school collected 1.029 devices. In total, the E-Waste Race Apeldoorn collected nearly 4000 electrical devices for re-use or recycling.