Royal Visit to Orkney puts Spotlight on Tidal Energy and Green Hydrogen
Duke and Duchess at EMEC hydrogen fuel cell (Credit Colin Keldie)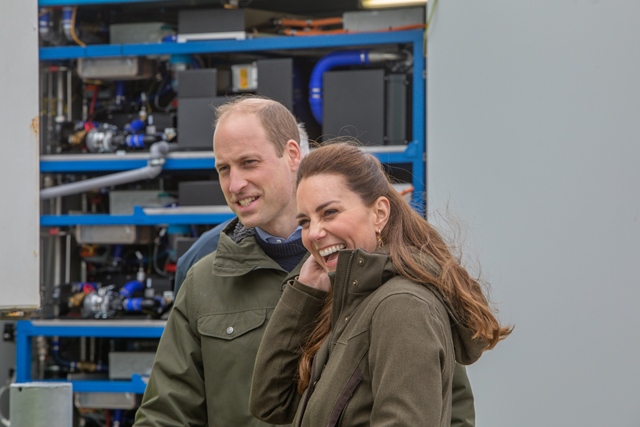 The Duke and Duchess of Cambridge visited Orkney this week to visit the European Marine Energy Centre (EMEC) in pursuit of solutions for tackling climate change and supporting the UK's green economic recovery.
Their Royal Highnesses met with EMEC's managing director, Neil Kermode, and external relationship manager, Eileen Linklater, to hear about the test centre's role in developing an ocean energy industry and green hydrogen economy. Discussions centred around the potential for ocean energy as a new sustainable energy resource stimulating job creation and supply chain development in coastal communities.
Heading out to sea, courtesy of the Royal Navy, the tour included an excursion to Orbital Marine Power's O2 – the world's most powerful tidal turbine. Orbital's CEO, Andrew Scott, provided a tour on board the O2 with the Duke and Duchess christening the device for good luck with a splash of Scapa Whisky.
Once deployed at EMEC's Fall of Warness tidal test site, excess power generated by Orbital's 2MW tidal turbine will be used to power a new novel design of PEM electrolyser built by Elogen (formerly ArevaH2Gen) with a capacity of up to 1MW for the €11.8m North West Europe INTERREG funded ITEG project. ITEG will tackle grid export limitations faced in remote communities using a smart onshore energy management system on Eday which will enable EMEC to determine whether the tidal power generated at the EMEC's Fall of Warness test site is fed into the grid or into the electrolyser to produce hydrogen.
Returning to shore, the royal couple visited EMEC's hydrogen fuel cell and storage trailers at Kirkwall Pier, and were introduced to members of EMEC's operations team. John Skuse, Jerry Gibson and Dave Wakefield shared stories of their progression from careers in hospital building and engineering, marine engineering and aviation to careers in ocean energy at EMEC, as well as providing an overview of the green hydrogen initiatives taking place in Orkney.
Neil Kermode, Managing Director, EMEC said:
"It was a pleasure meeting the Duke and Duchess and introducing them to Orkney's living laboratory for sustainability and renewable energy. Orkney is a beacon for the world, demonstrating technologies and solutions that will support decarbonisation and a cleaner, greener future.
"From wind, tidal and wave power to green hydrogen for clean carbon-free fuel, we were able to show Their Royal Highnesses sustainable solutions that will help tackle climate change and support green economic recovery, and introduce them to some of the people working in the sector locally. The activities taking place here at EMEC have attracted passionate people to stay in and move to Orkney to build their careers; the epitome of just transition in action."
Andrew Scott, CEO, Orbital Marine said:
"It's hugely exciting for the whole team at Orbital to get the attention from the Duke and Duchess of Cambridge on their trip to Orkney. Tackling climate change is something they're clearly very passionate about so it is a real honour to get the opportunity to show them our innovative O2 turbine and give them an insight into our ambitions to help turn the tide on climate change here in the UK and overseas."
View the slide show below to see more photos from the visit. 
Andrew Scott and Dan Wise from Orbital Marine Power introduce the Duke and Duchess to the O2 tidal turbine (Credit Kensington Palace)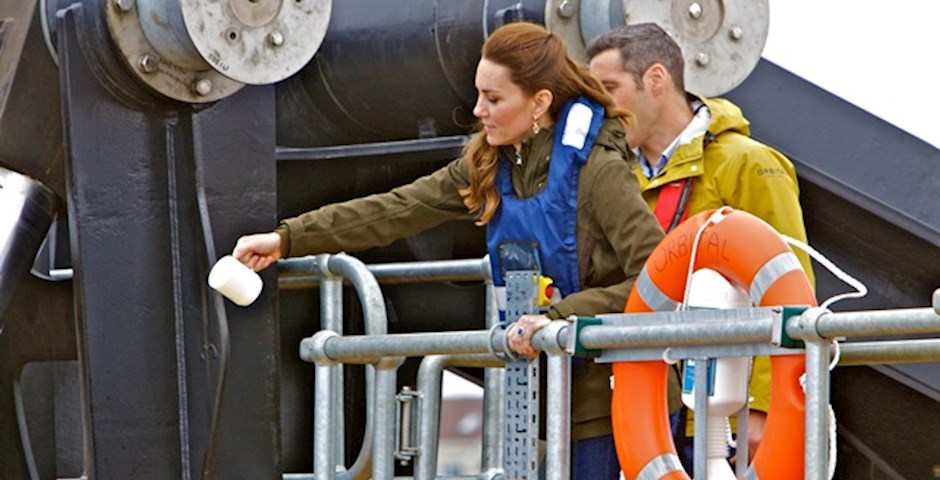 Duchess of Cambridge christening the Orbital O2 tidal turbine (Credit Colin Keldie)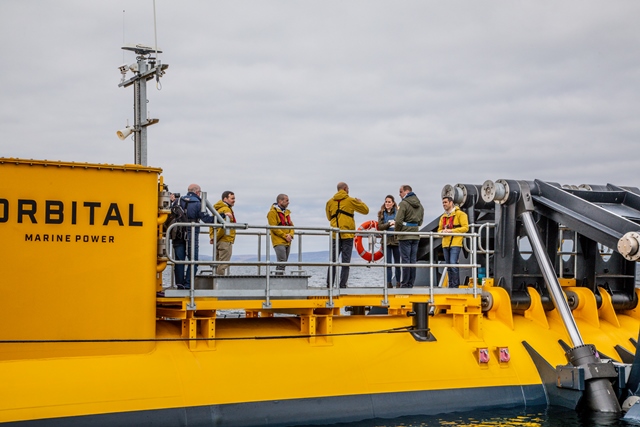 Duke and Duchess on board the Orbital O2 tidal turbine (Credit Colin Keldie)
John Skuse of EMEC shows Duke and Duchess inside hydrogen fuel cell (credit Colin Keldie)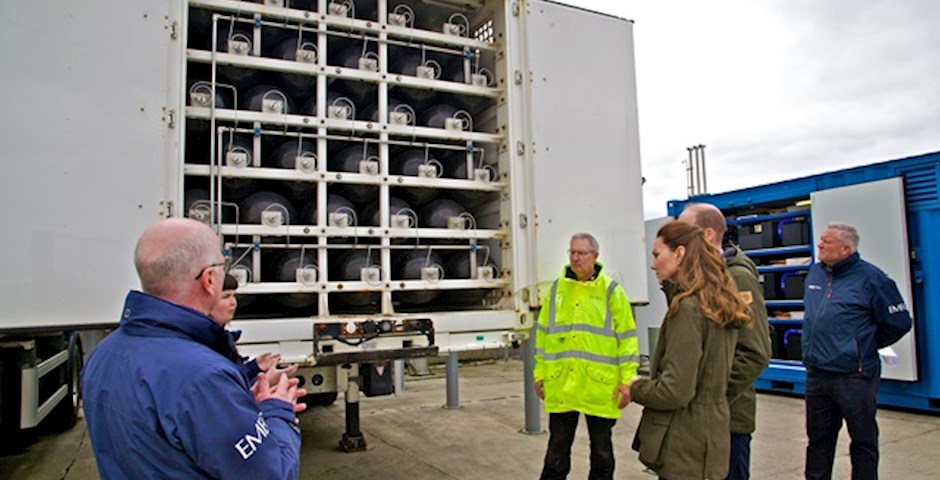 Jerry Gibson of EMEC provides Duke and Duchess a look inside EMEC mobile hydrogen storage unit (Credit Colin Keldie)