The new centre is located on Lower Coastguard Lane opposite the main carpark for the Firehills area of the park, making the most of the park's stunning views over the English Channel.
Construction started in May and throughout the build there will be opportunities to watch exciting stages in the build such as the straw bale walls being constructed and the lime render being applied. The construction team is headed by SIA Design and Build, working with three specialist straw bale companies. We will be working with the build team to ensure that any potential disruption to users of the park and local residents is kept to a minimum.
The project is funded by Hastings Borough Council together with an award of £475,000 from Interreg North West Europe. The Interreg award is part of the innovative project called 'Up Straw' which is increasing awareness of public building with straw across North West Europe.
Once the new centre opens it will provide an exciting facility for visitors to the park to find out about this special landscape, for schools visits, activities and family events.
You can watch a wonderful video of the building's construction by clicking here.
Artist's Impression of the new centre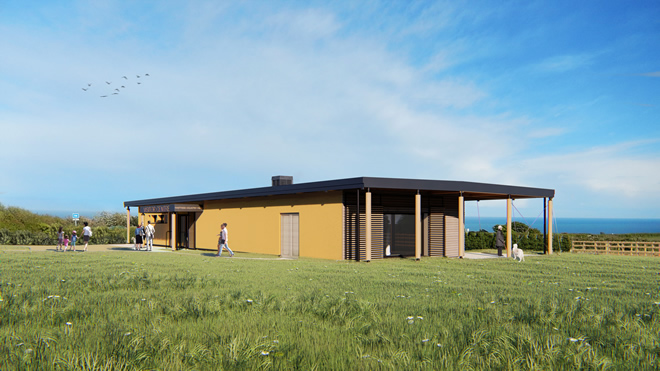 'The Fifth Estate: Public authorities should hold tenders for straw bale buildings'
This influential online journal published an article in September 2019, with reference to the history of straw bale construction in the UK and the Hastings Visitor Centre Investment. To read the article, click here.
Images of the Hastings build in progress:
Murray Davidson (Environment & Natural Resources Manager at Hastings Borough Council) delivered a presentation about the development at the European Straw Bale Gathering 2019. You can see his presentation here.