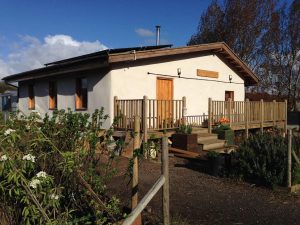 Public Allotment Building in Wigan
Research is increasingly highlighting the adverse effects of poor indoor air quality (IAQ) on health and well being. Studies particularly focus on schools, but if it's good for school children, it's got to be good for all of us. It is clear that we should be designing for health at the outset, and this should be embedded into every design.
Here at Straw Works Design we have always designed healthy buildings as one of the main ways this can be done is by using only natural materials.
Barb was a speaker at the recent ASBP conference on Healthy Buildings and these are the ways we add considerations for health into all our designs:
humidity regulation – by using natural plasters
no toxic off-gassing - use of natural materials - excellent IAQ
fresh air – breathable wall systems & passive/active ventilation
ambient temperature – thermal storage in strawbale walls with lime/clay plasters
peace and quiet – excellent sound insulation from plastered strawbale walls
quality of light – graduated by deep rounded reveals, plenty of daylight
beautiful surroundings – simple organic finishes
ownership – participation in the build
You can find Barbara's presentation  here - Building Healthy Buildings with Natural Materials
ASPB - the Alliance of Sustainable Building Products have also produced some informative briefing papers:
Improving indoor air quality - the benefits of natural fibre insulation
Formaldehyde - its effects on human health
These joists are in place at Cuerden Valley Park Visitor Centre
Straw Works has designed the UK's first ever registered Living Building Challenge project as the Cuerden Valley Park Visitor Centre which is all about using the right materials to achieve health and well-being, and to be truly sustainable instead of just greenwashing.
Here's an article about it in the National Geographic